School Hours M, T, Th, F: 8:10 am - 2:25 pm | School Hours W: 8:10 am - 1:25 pm | Office Hours: 7:00 am - 3:00 pm
Principal Note
What Makes Collier Cougarific?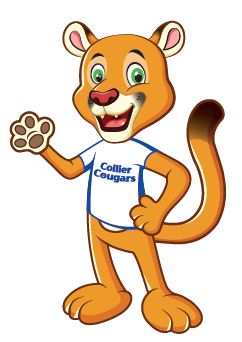 Announcements and Upcoming Events
PTA Chick Fil A Day!
December 2nd, 6:30am -10:00pm
Chick Fil A Tanque Verde and Grant
6675 E Grant Road
Present the flyer to send 20% of your order proceeds to Collier PTA!
Click here for Chick Fil A flyer
Thank you Chick Fil A!

Scholastic Book Fair
December 6th - 10th
Before and After School
During the Elf Workshop

PTA Elf Workshop
December 10th
6:00pm
$10 Entry fee per family to cover cost of supplies

PTA DQ Night!
January 4th
4:00-8:00pm
Bear Canyon and Tanque Verde
Mention Collier when ordering for 20% to Collier
Thank you DQ!
What Makes Us Special
Collier Elementary School is nestled near the Catalina mountains making its positive, supportive environment all the more special. Children at Collier are taught to think and problem solve, to communicate and to function sensitively and successfully in a complex, changing, and culturally diverse world. Collier kids are "Caring Cougars." They practice kindness and the 4 B's: Be safe, Be Responsible, Be Respectful and Be Caring.
The school has strong parent and community partnerships to support students' academic, social, and emotional growth. These include Stories That Soar, Student Council, Track, Talent Show, movie nights, family art nights, Chili Night, Monster Mash, Pasta Night and a Jog-A-Thon.
Additionally, Collier hosts a Community School, which provides outstanding preschool and after-school programs.