School Hours M, T, Th, F: 8:10 am - 2:25 pm | School Hours W: 8:10 am - 1:25 pm | Office Hours: 7:00 am - 3:00 pm
Principal Note
What Makes Collier Cougarific?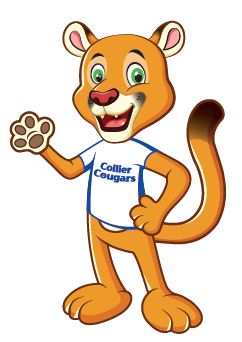 Announcements and Upcoming Events
Student Council Spirit Week
October 4th - 7th
Monday: Crazy Hair or Hat Day
Tuesday: Favorite Character Day
Wednesday: Sports Day
Thursday: Pajama and Stuffed Animal Day

Grading Day
No School
Friday, October 8th

Fall Break
No School
October 11th- 15th

PTA Monster Mash Fundraiser Carnival
October 23rd
4:00 pm - 8:00 pm

Staff Professional Learning Day
NO SCHOOL FOR STUDENTS
Childcare available please contact the office for information
October 28th
What Makes Us Special
Collier Elementary School is nestled near the Catalina mountains making its positive, supportive environment all the more special. Children at Collier are taught to think and problem solve, to communicate and to function sensitively and successfully in a complex, changing, and culturally diverse world. Collier kids are "Caring Cougars." They practice kindness and the 4 B's: Be safe, Be Responsible, Be Respectful and Be Caring.
The school has strong parent and community partnerships to support students' academic, social, and emotional growth. These include Stories That Soar, Student Council, Track, Talent Show, movie nights, family art nights, Chili Night, Monster Mash, Pasta Night and a Jog-A-Thon.
Additionally, Collier hosts a Community School, which provides outstanding preschool and after-school programs.