School Hours M, T, Th, F: 8:10 am - 2:25 pm | School Hours W: 8:10 am - 1:25 pm | Office Hours: 7:00 am - 3:00 pm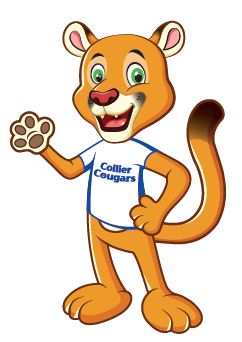 Announcements and Upcoming Events
5th Grade Promotion
May 25th
8:30 am
Collier Cafeteria

Last Day of School
May 26th

Full STEAM Ahead Summer School
June 6th - June 30th
Monday - Thursday
8:00am - 12:00pm
What Makes Us Special
Collier Elementary School is nestled near the Catalina mountains making its positive, supportive environment all the more special. Children at Collier are taught to think and problem solve, to communicate and to function sensitively and successfully in a complex, changing, and culturally diverse world. Collier kids are "Caring Cougars." They practice kindness and the 4 B's: Be safe, Be Responsible, Be Respectful and Be Caring.
The school has strong parent and community partnerships to support students' academic, social, and emotional growth. These include many enrichment activities and family friendly events.
Additionally, Collier hosts a Community School, which provides outstanding preschool and after-school programs.